For those who know me personally, you know that I'm a public health nurse. Since I've returned full time to work a couple years ago, I travel out of town to work for the same agency but closer to Ottawa. I continue doing the same work as when I was a nurse locally. But I don't get to give as much to clients in my home town anymore. There are different components to my job, but the one that I am most passionate about is my baby and family home visits. I assess family's needs, it could be parenting, breastfeeding, financial struggles, you name it. We do live in an area where poverty is on the high. Eastern Ontario is high risk for many different reasons. One of my tasks is to find different community resources to help family in needs. Nothing breaks my heart more than when these families including children who have no money for food or clothing. I do refer them to the local food banks and snow suit program. But I know I can do more.
As I was commuting to work, I wondered, since I'm not working locally, how can I give back to my community? Since it's the countdown for the holidays, why not host a Christmas card class where the proceeds could go to the local food bank and to buy snow suits for children in need. The holidays are the perfect time for giving!!
So mark your calendar, on December 1st at 7 pm, I will be hosting a card class with cardholder. Here is a sneak peek of the cards you will be making.
There are 3 different options:
Option A: A goodie bag with a goodie bag 15$ of products, make 8 cards with holder and it includes envelops for 25$, a 10$ donation will go to my community.
Option B: includes option A plus the stamp set Hang your stocking also available in french for 57$, a 15$ donation will go to my community. (pictures of the products are available at the end of this post)
Option C: includes Option B plus the matching Christmas stocking thinlits for 99$, a 25$ donation will go to my community. (pictures of the products are available at the end of this post)
Please bring adhesive and paper snips, don't have any ask me about my adhesive bundle.
Payments accepted are: Credit card, ETM, paypal (paypal link in right sidebar on my blog)
Can't make it, if you are canadian, ask me for my bundle to go. Please sign me up for the bundle to go
This class is designed for beginners to expert stampers.
I thank you in advance for your support! xo
One last request, please bring one non perishable item to the event…
In the picture below, you will find sneak peeks of the cards we will be making.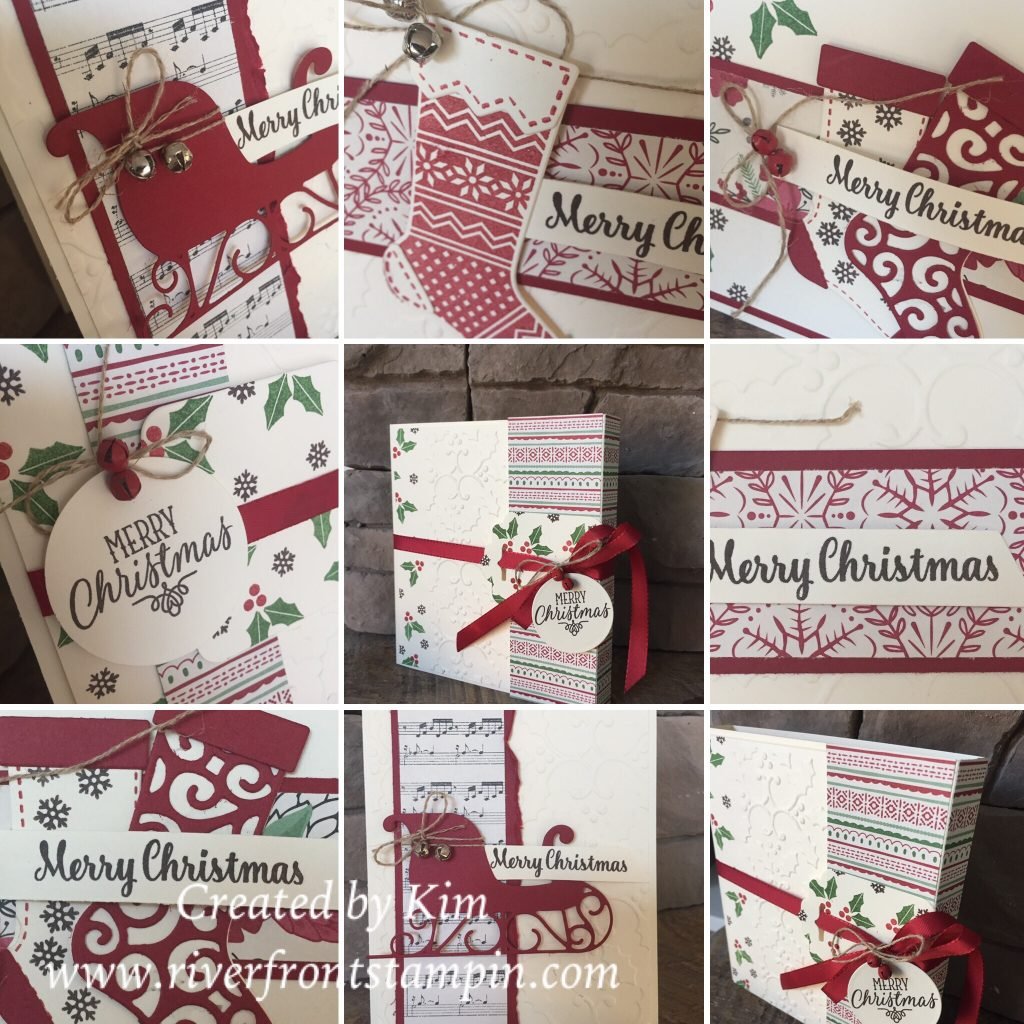 Below you will find a close up of my card holder:)
Below you will find supplies for this class
Looking for a great deal? Save 25% off selected stamp sets and get the stitched shapes framelits dies. Click on the link HERE
There are great details about the holiday catalogue. Don't hesitate to contact me or place your order in my online store. If you are ordering online, don't forget the check that box so I can see your details that you ordered so I can make you part of my VIP customers and reward you. When asked about your demonstrator select Kim Assaly.
VIP bonus points: If you are part of my VIP customer list, don't forget my special for November plus if you order online use my hostess November code to get bonus points for a free stamp set: W7GJS7DT Not part of my vip club, ask me how to join.
Enjoy your day, bonne journée, HUGS!!!