As a demonstrator, it's so much for to have the opportunity to preorder from the catalogues ahead of time.  We even get to preorder some of the hostess sets.  You bet that I took on the opportunity to order the hand delivered hostess set that will be available to hostesses starting June 2nd.  I always host a monthly team meeting.  For this month, we all played with this set.  We had a blast and I love how everyone came up with a different look.  Here's mine.
Do you have piles of DSP at home? I saw a cool live video from Ronda Wade on how to make gift bags with designer series paper.  Each of my team members got to design their own bag with coordinating card.  I love the designers series paper from the Share What You Love collection as it's very sturdy and perfect for this project.
Instructions to make the Designer Bag:  
Take a sheet of your favourite 12×12 Designer Series Paper.  Score at 3″ on 3 of the 4 sides.  Score the 4th side at 1″.
Take a second coordinating sheet of DSP, cut the piece at 8″x12″.  Score at 1 inch on one of the 8″ side and the two 12″ sides.  The second 8″ side, score at 3.
Take your two pieces and assemble the box together as indicated on Ronda's video.
For the card holder, cut a piece of cardstock at 5 1/2″ x 2 1/4″ for a vertical card and 6″ x 2 1/4″ for a horizontal card.
Punch a horizontal slot with the Classic Label Punch (to insert your card) and a sticky strip at the top of the narrower side and adhere to the gift bag.
Slide your card in the opening.
I know my colouring is not perfect… I used the stampin'write markers but would normally used the blends that are only going to be available on June 2nd.    Oh yes! more colours have been added in the stampin'blends collection.  I cannot wait to order the petal pink and Mint Macaron blends… Actually, I know I will order all of them since I love colouring with the blends.
The Lined alphabet is perfect to write any word for your cards and scrapbooking pages.  I love that you can color the inside, even stamp them on dsp for a totally different look.
You will definitely want to add the Classic Label Punch to your order.  It's so amazing to be able to use this punch to create an opening for the card insert.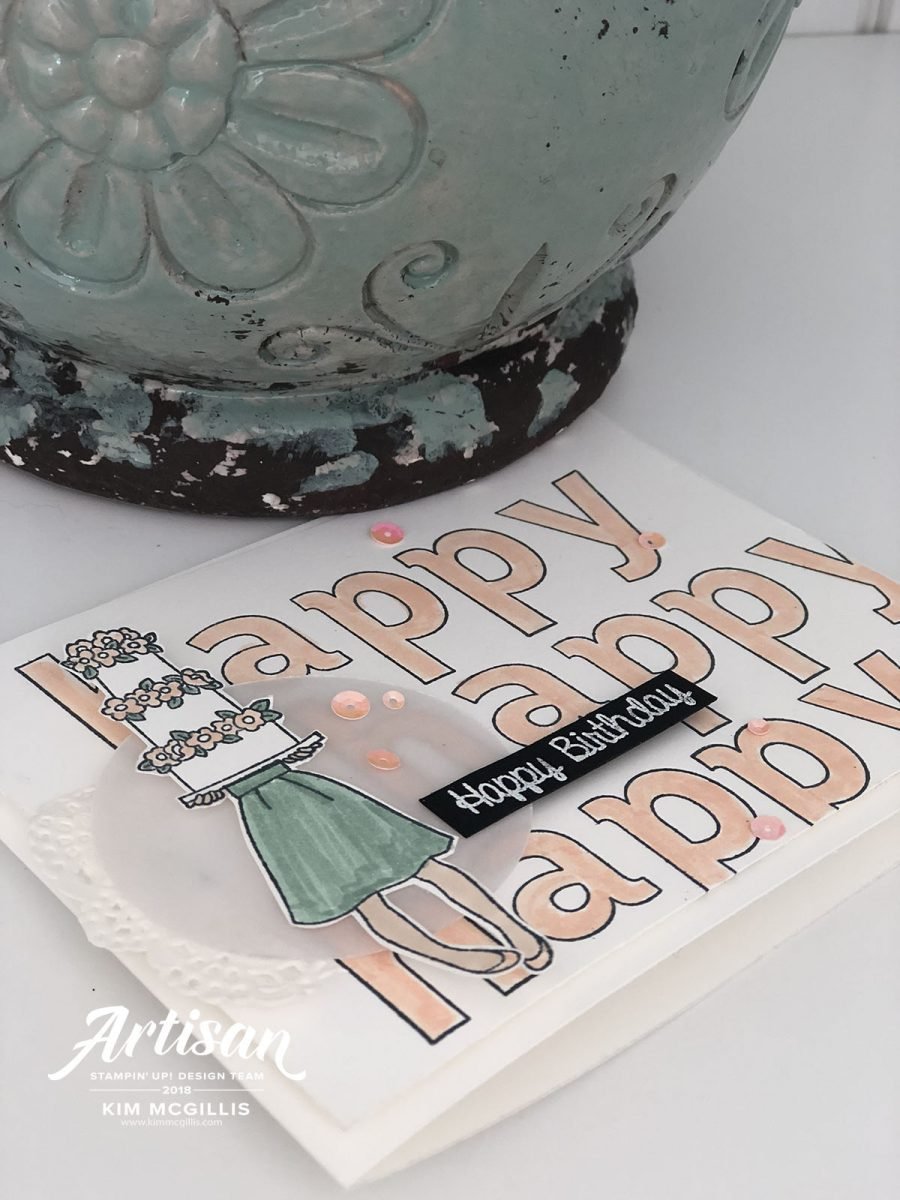 I hope you liked my gift set today and you are going to try your own version of gift bag and coordinating card.  It's so fun to use new products from the next Annual Catalogue.   Add the Lined Alphabet  to your wish list, order the starter kit and get these products now or book a party with me to have the opportunity to get the hand delivered stamp set as a hostess gift.  It can be a catalogue party, a live home party in your home or mine or an online private party.
If you live in Canada, I would love to be your demonstrator!  Click on the supply list below to order any of the items.  Use Hostess May Code  3AMK3HNS to receive perks from my VIP club.   View all of the promotions including the retired list by clicking HERE.  And if you are from another country, you can still take a glimpse of the products listed and shop with a demonstrator near you. Happy Stamping!
Hugs, Kim xo