Hi Crafters/Bonjour!
Have you every created a card that is not for the holidays but used a Christmas stamp set?  Stampin'up!'s Christmas Scottie Stamp set from the Holiday Catalogue is exactly what I had in mind.
On Friday, July 15th 2022, our sweet Maya crossed the Rainbow Puppy Bridge.  We adopted her when Jordan was 3 years old.  She was 14 years old when she passed.  She participated in many crafting classes, greeting guests in my studio.  Maya use to love to go to the park next to our house.  One time, someone took her with them.  We were all devastated.  We lost her for 3 months…. After making signs and offering a reward, we found her in another town (Lachute) and actually in an other province (Quebec) that was about 30 minutes from our home.  She was not cared for and not living in the best conditions.  The girls were so happy and relieved that she was found.
My oldest daughter Megan became Maya's mom.  She took her to University.  Megan cared for Maya every day for the last 3 years.  When Maya started getting sick, Megan took her to the vet.  And what was an appointment for acupuncture turned for the worst and unexpected…. Megan had to take the hard decision to relieve Maya from her pain and let her cross over the puppy rainbow bridge.  I made one of these cards with a coordinating gift for Megan.  I wanted her to have the memory of her dog.  She loved and cared for Maya like no other.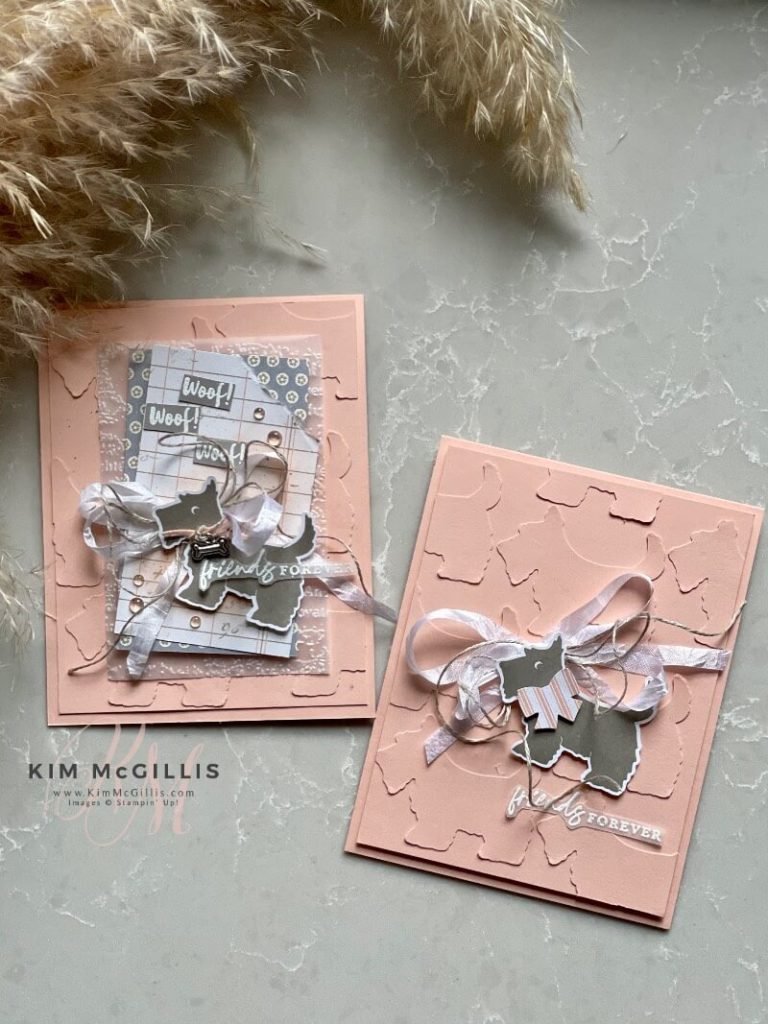 Card #1:  The Simple Card
The Christmas Scottie Bundle includes the Christmas Scottie Stamp Set + the Scottie Dog Punch.
Tip:  Use the Scottie Dog Punched Cardstock for your background. 
I get so excited when Stampin'up! comes out with new punches.  Punches are awesome for card swaps or when you need multiple images like this card base below.
Card #2:  The Avid Card
If you are an avid crafter, I suggest layering cardstock over your punched Scottie Dogs.  In the image below, I used Vellum  Cardstock and the Abigail Rose Designer Series Paper. I used the Timeworn Type 3 D  Embossing Folder with the Vellum Cardstock. It creates lots of texture.  Adding layers on a card is one of my favorite things to do.   The card below includes 8 layers! Wowser!!!
I hope you liked these two none holiday cards using the Christmas Scottie Bundle.  I created these cards in honour of our sweet Maya.
RIP Maya Assaly 2008-2022, we love you! Please hug your pets a little more tonight in the memory of Maya.
Below, you will find a list of products used to create these two cards.
More ideas from the Abigail Rose Collection HERE.
Special Offer:  Place a 60$ or more order with me in the month of July  using the Hostess Code WP24Z2DR and receive  FREE designer series paper.
Join my team and get to order from the new Annual Catalogue and Holiday Catalogue.  BONUS Gift in July, the Making Plans Collection.  It is amazing!!!  Click HERE to get your starter kit.
How amazing to get $165 of products for $135. Wow the Making Plans Collection for FREE.   You can read all about it HERE.
Have a great day!
Hugs, Kim xo