Hello Stampers, Bonjour!
Love is in the air. Valentine's Day is not only an occasion for couples.  It's also a day to celebrate girlfriends, Happy Galentine's Day…. From flowers, to chocolates or that romantic dinner you and your partner have been waiting for.  There is a special way to show your love for  "V" Day.  We are keeping it low key this year.  In the past, we've often escaped the Canadian Winters around this time of year and traveled to a hot sunny destination.  I feel that our schedules are not aligning for a trip.  I was too busy with my nursing job in January.  February was out of question for me due to my scheduled surgery and post op recovery.  "By the way, I went to my medical appointment yesterday, bandages are off.  I still have stitches, steristrips and bruising.  But the good news is that I will be able to take a quick shower."  Chris is not available to travel in March.  So I don't think we will be going out of country this year.
Although we are taking it easy in February.  I still wanted to celebrate Valentine's Day.  What better way than create easy DIY treat boxes. You can add jewelry, chocolates or candy.  The inside of the box is about the size of a match box.   Stampin'up! truly facilitated this process by designing the Heart Boxes this year. These boxes are an add on option available to Paper Pumpkin Subscribers. I made my tags when I created the cards posted HERE.  And I had some leftover. Why not use them for the boxes today.
WHAT IS PAPER PUMPKIN?
Paper Pumpkin is a monthly One-Stop Box™ that offers a unique variety of paper projects for subscribers of any skill level to enjoy! These thoughtfully-themed and all-inclusive craft kits encourages you  to explore your creativity, try new techniques, and discover your potential in papercrafting. Although, I have been crafting for 17 years, I still enjoy my monthly subscription.  I don't need to think about a design.  It's all done for you.  Everything is included in the kit which is a BONUS.
If you are interested in a monthly subscription with me then you can select me and sign up HERE.
Today is the last day to sign up for the next kit.  Check out the flyer for details.  You can sign up and be billed monthly with the pay as you go option or you can purchase a 1, 3 , 6 or 12 months subscription and receive Sale A bration benefits and hostess benefits if you qualify.
As I was saying , the Heart boxes are a Add On option for paper pumpkin subscribers.  I modified my add on and added love notes using the Alphabet A La Mode Dies and the Rectangle Stitched Dies.  These were simple to create.
Simple Steps to create the Heart Boxes:
Assemble the Heart Boxes. One part is top and the other part is written bottom. There is a Reel on my Instagram account Kim_McGillis
Die cut a rectangle from the Rectangle Stitched Dies in Basic White Cardstock
Adhere adhesive sheet onto Petal pink Cardstock and die cut the word of your choice using the Alphabet A La Mode Dies "my Favorite"
Remove the backing  from the adhesive sheet letter you created and adhere to the rectangle die cut piece
Use Dimensionals to add your love note to the heart box
Embellish with ribbon or twine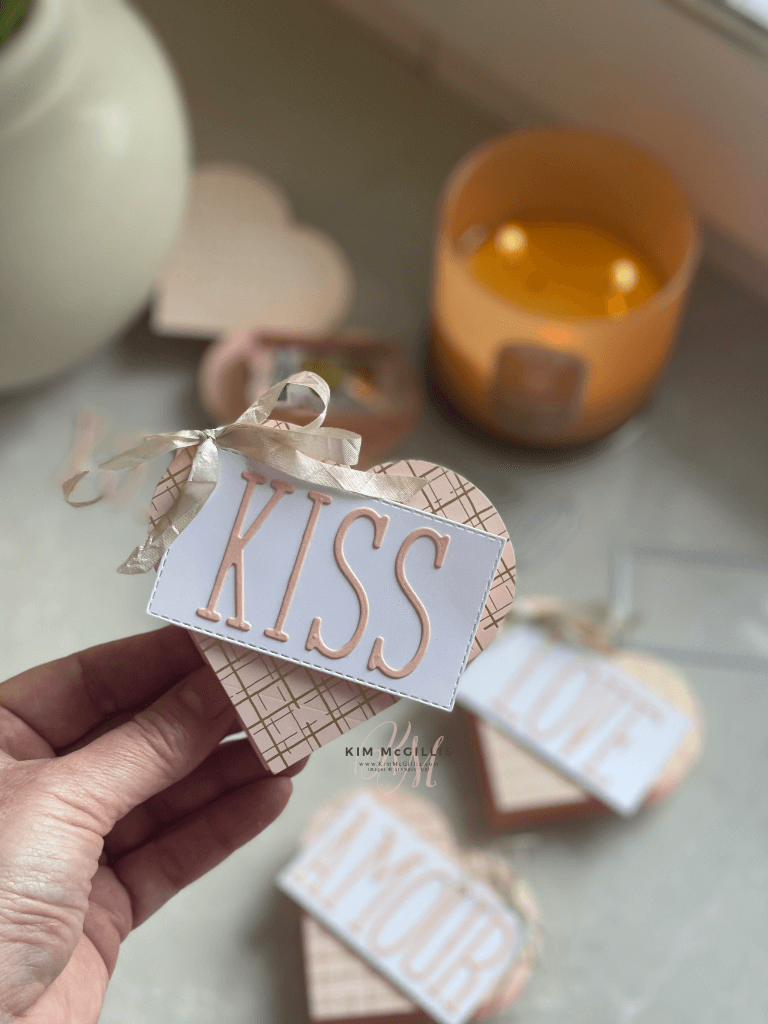 Tip: Adding the Adhesive Sheet onto your piece of cardstock prior to die cutting, insures that small die cut pieces have adhesive on them.  Therefore, no messy and sticky  fingers, you don't need to add multi purpose glue.  Just peal and add to your crafting project.  The is what I used to adhere the letters in these tags above.
Color Combination used today:
The inside of the box is perfect for a Ghirardelli Chocolate. Who doesn't love chocolate?
Don't forget to check out Stampin'up! Amazing deals. Check out the starter kit option.  You get $225 of products plus a Mini Cutting and Embossing machine (value 89.95) for only $175 no tax and no shipping. Two color options for the Mini Machine Boho Blue or White.
Stampin'up! has other amazing deals this month:
Stampin'up! has replenished their Clearance Rack.  Did someone say savings?  Everyone loves a good bargain and Stampin'up! has added so many great items, while supplies last. Check out the clearance rack HERE or you can view the list below.
Sale A bration is going strong all month long. Make the most of Sale-A-Bration by earning exclusive products when you shop and spend $60 or more. You can also sign up as a Stampin' Up! demonstrator and personalize your Starter Kit by choosing one of three incredible options!
More SU promotions to view HERE.
Special Exciting and Exclusive Offer from me:  Place a 120$ or more order with me in the month of February using the Hostess Code FQCBZ7EG and receive a mystery box of retired products. Shipping included. It will include stamps, paper, embellishments and other items. Wow what an amazing deal.  You can add more than one order all month long and qualify for multiple mystery boxes. If you order is more than $200 you also qualify for hostess benefits.
***You can do multiple orders during the month to get this amazing deal.***
A Mystery Box is MY GIFT TO YOU when you place an order of $120 using Hostess Code FQCBZ7EG for the month of February while supplies last. All boxes are filled with retired Stampin'up! Products like stamps, dies, paper, accessories and more. Each box is different. This month, I'm focusing on a theme of love, red, white and pink.
Orders need to be placed in my ONLINE STOREor directly with me.  I will pay your Mystery Box Shipping too.
If you can understand French: I joined demonstrators from France and Quebec:  L'Accent Creatif. We've created 10 classes for you.  Get these French classes for FREE when you place an order in February for $60 or more.  New ideas every month.  Use February Hostess Code FQCBZ7EG If you are part of my team, you get these monthly tutorials for FREE.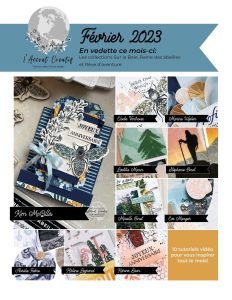 If your list is long, I suggest you get the starter kit.  You can  message me if you have any questions about the starter kit.  Join my team and get to order from the new Annual Catalogue and Mini Catalogue.   Click HERE to get your starter kit.
How amazing to get $165 of products for $135. But even more exciting…. During Sale a Bration, there are 3 kit options available.   Would you like to get your special mini die cut machine at an insane deal? You can read all about it HERE.
Have a great weekend!
Hugs, Kim xo
Products used to create these boxes are listed below.  I've added the Paper Pumpkin option as well.