Hello Crafters, Bonjour!
Last Day of the month and Happy Friday!  It's a long weekend for me because of Canada Day.  Wohoo!  We are planning to celebrate Chris's brother's birthday on Saturday.  He is a July 1st baby.  Fun fact about Chris's brother. He played in the NHL from 1996 to 2010 and married a sweet American Girl!   Chris has a signed jersey from every team he's played.   They are displayed in his "Man Cave".  I have a large crafting studio.  Chris has is "Man Cave".   Ha ha!   Anyway, we are looking forward to gather with his family and celebrate Canada Day and Dan's birthday.
But before we all get too busy  for the weekend, I have a couple of reminders for you:
Today is the Last Day to qualify to get the 9 Free Tutorials from L'Accent Creatif Team from France, Quebec and me from Ontario.  My Tutorial is a shaker card featuring the Let's Go Fishing Suite on page 78 of Stampin'up!'s Annual Catalogue.  The Let's Go Fishing Designer Paper that used is still on sale.  Although these are French Tutorials that you earn for FREE when you place a $60 order.  I do have an English option for my customers who don't speak French.  Below is a sneak peek of my shaker card.  The Collection is also available in French and called Allons A La Pêche.   This collection is perfect for masculine cards.  You can shop in my store HERE to qualify.
Let's Go Fishing Suite includes:
Gone Fishing Bundle (Gone Fishing Stamp Set + Gone Fishing Dies)
Let's Go Fishing 12″ x12″ Designer Series Paper
Twisted Rope 3D Embossing Folder
If you attended my last event at the Vineyard, you've created with these products.  Our next event is coming soon.
The collection pairs with a beautiful palette of colors:
Here is a Sneak Peek of our Tutorials:
TODAY IS THE LAST DAY FOR THE LIMITED TIME STARTER KIT SPECIAL: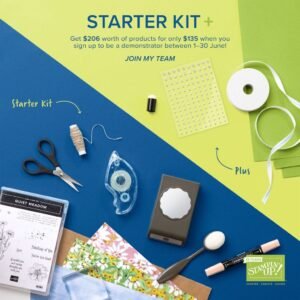 What's the Starter Kit?
It's Kind of like a preferred customer pass!  You buy the kit (CUSTOMIZE  with what you want!) for only $135, no shipping fees.  And you get to pick out of $206 in products.  That is $71 in FREE Products! The kit is perfect for beginners stampers or for the ones who have a long wish list.  If you need help in choosing your products, please reach out and I can help you select your items that will meet your needs.  Don't be shy, message me if you have questions about the starter kit.
Plus you get a discount of 20% off your future orders while you are active!  And all the amazing benefits of being a part of the Stampin'up! Family and Cupcake Cuties Group!  Check out the benefits HERE and the link to Join! 
There are so many perks that come with being a demonstrator beyond the opportunity to earn commission on sales or discount on your own orders. You'll get early access to products, the chance to attend demonstrator exclusive events, and be able to connect with stamping friends from around the globe.
Please reach out to me if you would like to know about my list of recommended products to "getting started".
Please help me welcome to My Cupcake Cuties Family, Christine!  
Christine has already started accumulating cupcake tokens 🙂  If you want it all? For the month of June, you can get the starter kit which is $206 of products of your choice for only $135, no shipping fees too. Join our cupcake cuties family.  Join HERE!  Today is the last day to get this amazing deal!  If your wish list is more than $100, the starter kit it the best option for you.
LAST DAY TO TAKE ADVANTAGE OF THE DESIGNER SERIES PAPER SALE: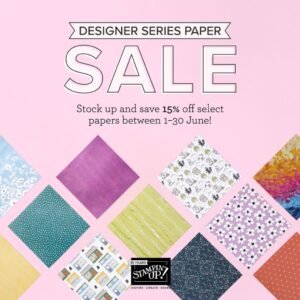 Wow, so many great offers, SO LITTLE TIME LEFT…
Thank you for supporting my small business, enjoy your weekend.
Hugs, Kim xo
Products needed to create the shaker card are listed below.  You can click on the image to shop in my store.