Hello Crafters, Bonjour!
Today we are having another series of creations for the FAB Instahop Design Team on Instagram! What an honour to be part of this fabulous team.
This month, we are featuring our favorite flower. I choose the Quiet Meadow Stamp Set on page 66 of  Stampin'up!'s Annual Catalogue. I also used the Meadow Dies that coordinate with the stamp set and the beautiful flowery images from the Delightfully Eclectic Designer Series Paper (DSP) that is currently on sale, until June 30th.  The DSP includes 48 sheets of 12 x 12 inches, 4 each of 12 double-sided designs.  Some images coordinate with the Inked & Tiled Punch Pack on page 147 of the Annual Catalogue.  I love when Stampin'up! designs coordinating products.  It's one of the reason I joined as a demonstrator 17 years ago. This DSP coordinates with 12 of Stampin'up!'s colors:  Basic Black, Bubble Bath, Cajun Craze, Calypso Coral, Crushed Curry, Fresh Freesia, Garden Green, Misty Moonlight, Night of Navy, Old Olive, Petal Pink and Pretty Peacock.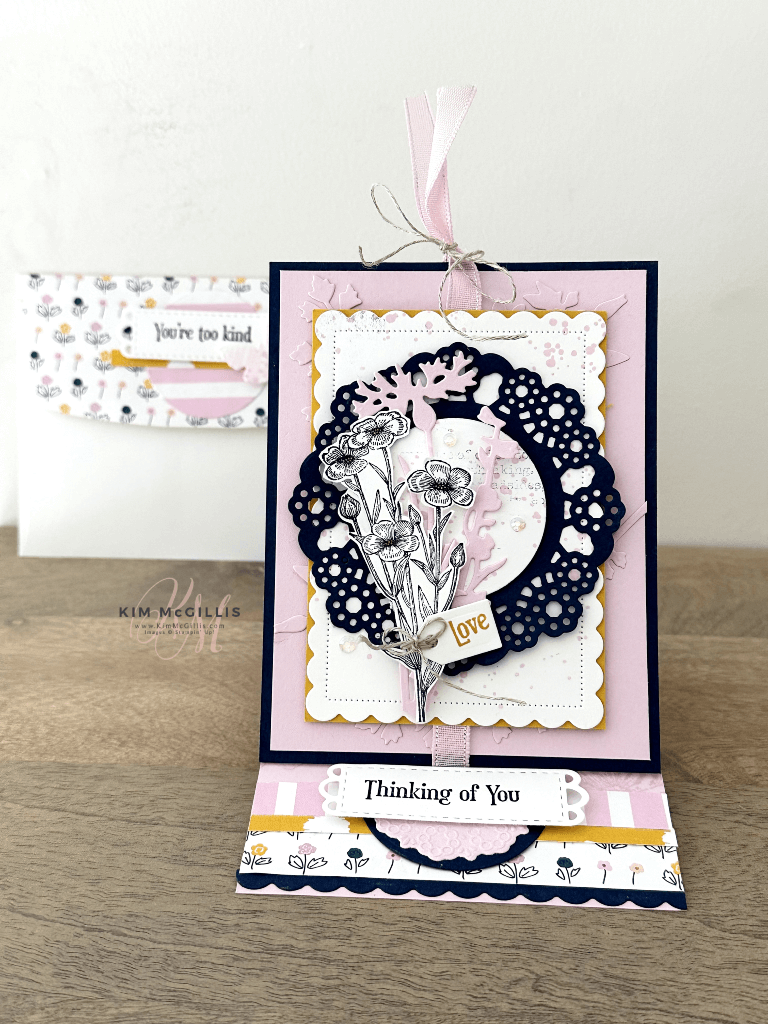 My Fancy Fold Quiet Meadow card features 3 colors:  Crushed Curry, Night of Navy and my favorite, Bubble Bath.
I'm sharing a close up of my card front simply because I adored using Delightful Doily Hybrid Dies and coordinating Embossing Folder.  The set includes 4 dies and the Embossing folder.  I used the large die on my card front and the smallest die and circle die for the inside of my card.  If you know me, you know I love everything vintage. The fact that Stampin'up! created Doily Dies had me screaming to the top of my lungs… I will never part with these (smile).
I also used the Scalloped Coutours Dies.  You can never have too many scallops on a card.
The Quiet Meadow Stamp Set and coordinating Meadow Dies are also one of my favourite stamps.  I adore that it includes specs/spashes stamp to add texture to the card.  The stamp set also includes a stamp with wording.  Again, so perfect for layering.  This stamp set is also available in French and called Quiétude Champêtre.  You can view the French greetings in the image at the bottom of my shopping links.
I also decorated my envelop using the same designer series paper and stamped images from the same collection.  Adding some embellishment to your envelop is that extra touch of love to your creation.
How to decorate an envelop:
Add Multipurpose Glue to the flap of the envelop
Add the designer paper on top
Use paper snips to cut the extra dsp
Embellish the envelop with coordinating stamped images
On a side note, help me settle a discussion with my husband Chris….  Do you agree with me, paper snips are for paper, kitchen scissors are for the kitchen, gardening snips are for the garden, and so on….I even have snips that I only use in my craft room for cutting my ribbons.  Chris has been using my scissors to open parcels etc.  I feel that every pair should be used specifically for it's on purpose or they get dull.  Do you agree with me or with him?  Share your opinion on my post so we can continue this discussion him and I.  lol
For the Week of  June 26th to June 30th, when you place an order in my online store for $50, or more, receive my Daisy Class for FREE. It includes products to make 4 cards and includes a beautiful coordinating box.
I hope you enjoyed my card today.  If you purchased the Delightfully Eclectic Designer Series Paper, I would love to see your creations.  Have a great day and thank you for supporting my small business.  I adore reading your comments.
Hugs, Kim xo
Products used for my Quiet Meadow Fun Fold Card are listed below: