Hello Crafters, Bonjour!
Thank you to all who joined me for my Tuesday Facebook Live last night.  It was so fun to see so many familiar faces return to view my projects.  Your support, your comments and your shares mean the world to me.  If you missed out on it, you can catch the replay HERE. I featured the Trucking Along Bundle since it's part of the Online Exclusive Collection and there are so many new items that were added on yesterday.  You will definitely want to check it out.
I had a couple of pieces left from the Rustic Christmas Countdown Kit, I decided to combine them with the Trucking Along Bundle.  Actually, we had used this actual bundle at the Vankleek Hill Vineyard Event since some of the guests didn't want to do the Christmas Countdown.  They added the vintage truck to their envelops.
The Truck on the left is using the Cherry Cobbler Ink and the truck on the right features the Real Red Ink.  Personally, I prefer the Real Red Ink for the Vintage Truck.
Trucking Along Gift Card In Cherry Cobbler Ink: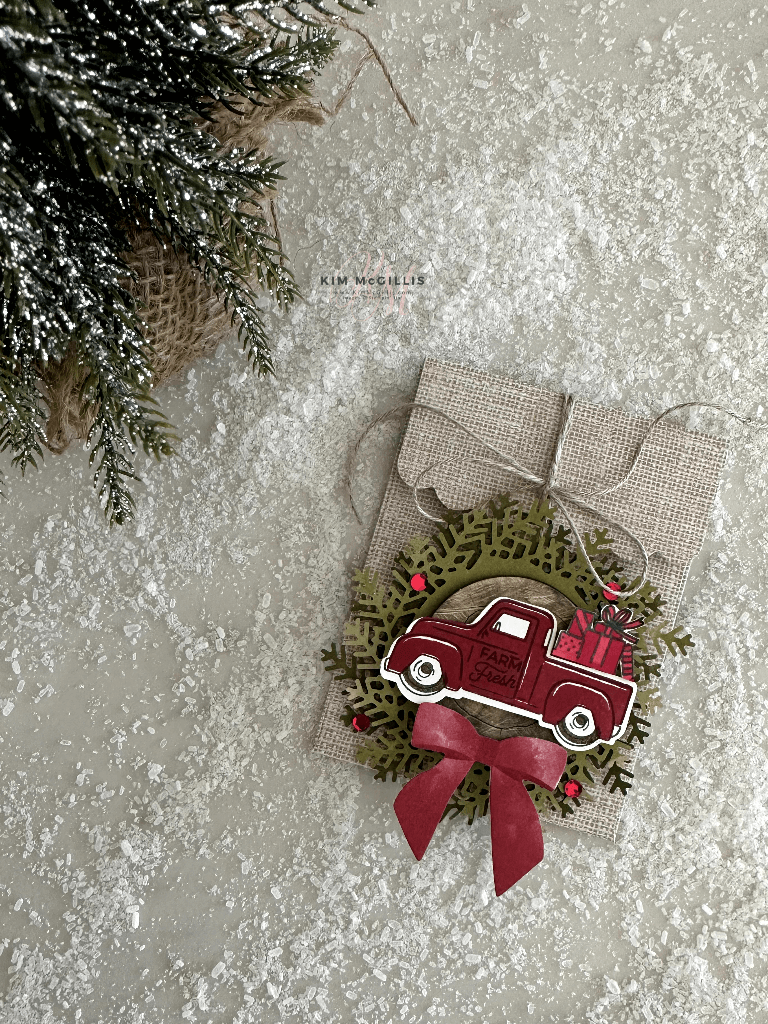 Trucking Along Gift Card In Real Red:  (My Favorite)
CARDS BY MAIL FREE CLASS INFORMATION AND DETAILS
HOW does this work?
Place a $60 order (before shipping and taxes)  in my Online Store using the current Host Code and you will receive a FREE Cards by Mail Class Kit.  These FREE card classes can be mailed anywhere in Canada at no additional fees.
If your order is $75 or more (before shipping and taxes). I will also include a bonus product in your class kit (like embellishments, ribbon, designer series paper).
There are no additional shipping fees to mail this free card class to you.
If you have forgotten to add the hostess code, you can call Stampin'up!  at 1-800-StampUp (1-800-782-6787)  OFFICE HOURS Monday -Friday 7 am -7pm MT or email them :  ds@stampinup.com)
If you would like to order the exact same products to make the same cards, products are listed below.
***Remember, with a $60 order, the kits will include all of the paper pieces, envelopes and ribbon to create all 4 projects 2 of each 4 designs.
**********************
Trucking Along November 7th, 2023 Live Trucking Along Cards By Mail
4 beautiful projects will be featured this week with the Trucking Along Bundle
Sharing project #1 today
View the Online Exclusive here (it includes the Trucking Along Bundle and 1 3/4 circle punch too: https://www.stampinup.ca/categories/shop-products/featured-products/online-exclusives?demoid=2006500
Order by Sunday November 12th at midnight a $60 order (before shipping and taxes) in my Online Store using the current Host Code 6GYDCHQQ and you will receive a FREE Cards by Mail Class Kit. ***can be mailed anywhere in Canada at no additional fees. You will receive 4 projects double in the Mail Class Kit
Use THIS LINK
If your order is $75 or more (before shipping and taxes). I will also include a bonus product in your class kit (like embellishments, ribbon, designer series paper).
OR MARK sold and comment what you would like to purchase and I will order it for you!
*min $60 order to qualify
Products used are linked below.  Happy Shopping and Happy creating,
Kim xo