Hello Crafters, Bonjour!
Happy Friday!  I'm sharing card #3 today with you from my Rustic Christmas Countdown alternate project.  It's a Fun Fold Card called an Easel Card.  I love making these.
The close up card shows the envelop from the Rustic Christmas Kit.  This is where I added a gift card and stamped images.
The base of the card is where the magic happens.  This is the bones of the card, meaning it makes the card an Easel Card.  By adding a couple of Dimensionals, the card is able to lean on the embellish base.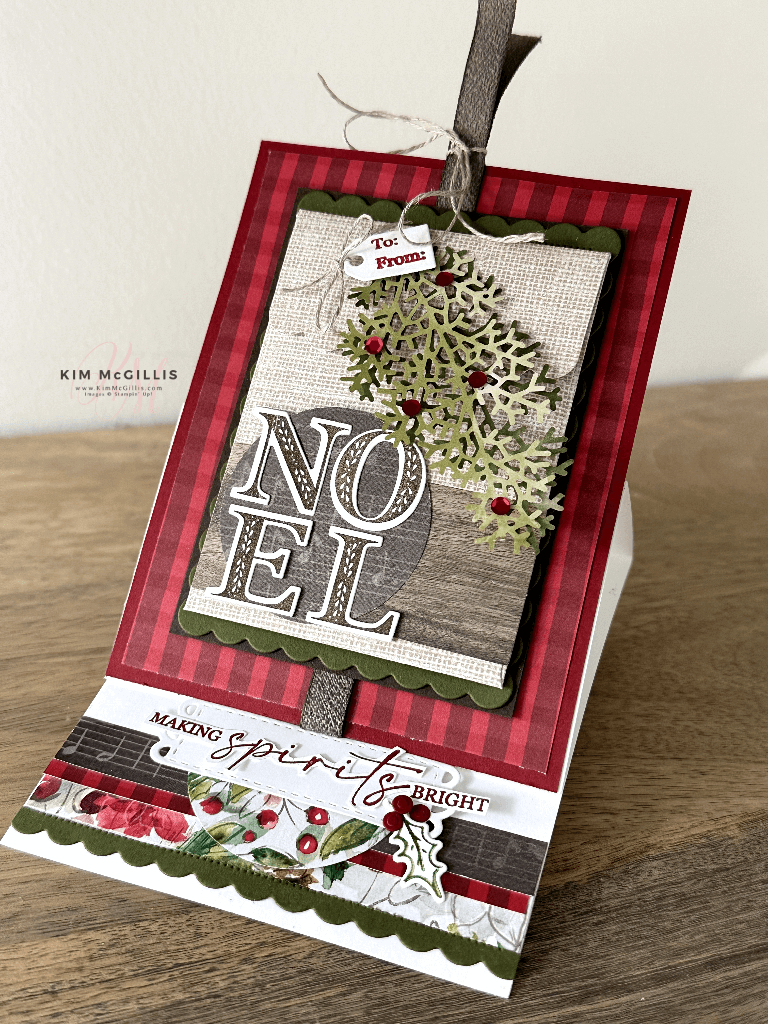 I love adding elements to my card base.
RUSTIC CHRISTMAS FUN FOLD CARDS BY MAIL CLASS
***Order for $60 in my online store or directly with me and receive for FREE the Rustic Christmas Countdown Fun Fold Card Class that runs from October 1st to November 4th using Host Code SX4EK7TG or by shopping directly in my Online Store.
I added a couple extra days with this code because I'm behind in my blog posting….. Sorry but It's a great deal for you.  Plus I made a 4th card that I need to share.
Yesterday's card has been uploaded on YouTube for the how to.  Subscribe to My YouTube Channel not to miss any future classes or projects.  This card will also be posted.
CARDS BY MAIL FREE CLASS INFORMATION AND DETAILS
HOW does this work?
Place a $60 order (before shipping and taxes)  in my Online Store using the current Host Code and you will receive a FREE Cards by Mail Class Kit.  These FREE card classes can be mailed anywhere in Canada at no additional fees.
If your order is $75 or more (before shipping and taxes). I will also include a bonus product in your class kit (like embellishments, ribbon, designer series paper).
There are no additional shipping fees to mail this free card class to you.
If you have forgotten to add the hostess code, you can call Stampin'up!  at 1-800-StampUp (1-800-782-6787)  OFFICE HOURS Monday -Friday 7 am -7pm MT or email them :  ds@stampinup.com)
If you would like to order the exact same products to make the same cards, products are listed below.
***Remember, with a $60 order, the kits will include all of the paper pieces, envelopes and ribbon to create all 6 fun fold cards 2 of each 4 designs. + a bonus card and treat this month.
If you want to duplicate my card, you will need to Joy of Noel Bundle, available in French too.
Add On Options:
Order the Rustic Christmas Countdown HERE
Order the Joy Of Noel Bundle HERE
Order the Les Joies De Noël HERE
Full list of supplies is listed below.  Thank you for shopping with me.
See another one of my cards featuring the same kit HERE
Kim xo