I'm a little early, but May is just around the corner!  May is national scrapbook month! This Saturday so happens that I'm hosting my spring fling scrapbooking day! Although, I wasn't planning on showing sneak peeks prior to the event, I have two new  openings… so if you want to attend let me know:) I love scrapbooking.  It's a great way to get together with friends and socialize while preserving memories.  I included in my guests goodie bag a journaling pen.  I think writing down the events of that special page is just so memorable for the person reading it. I used Stampin up! retired 12 x12 linen album.  I love to decorate my albums and always put a twist on things and add an extra technique.  You might want to check on the retired list and the clearance rack.  Stampin up always has great deals.  The clearance rack contains new items at a very good price.  See my link below.
My album contains products that are moving forward in the new 2017-2018 catalogue and some items are retiring.  The pop of pink specialty dsp is on the retiring list.  I loved the combination of black, white, gold and pink designs it contains. I'm sad to see that the so detailed thinlits dies are retiring as well.  I loved the detailed it brought to my cards and pages.  Here is one of the cards I made using these thinlits.  Click HERE. If you were to see my album up close, you would notice the glitter on my ferns from the butterfly basics stamp set. I used the wink of stella in clear for that  shine, glittery image. I love that stuff, wish it came in bigger containers!!!!
When I attended the on stage event in Amsterdam, I learned a new term = fussy cutting!!! So I detailed cut out my ferns since no thinlits exist for these.  I hope my guests will like fussy cutting 🙂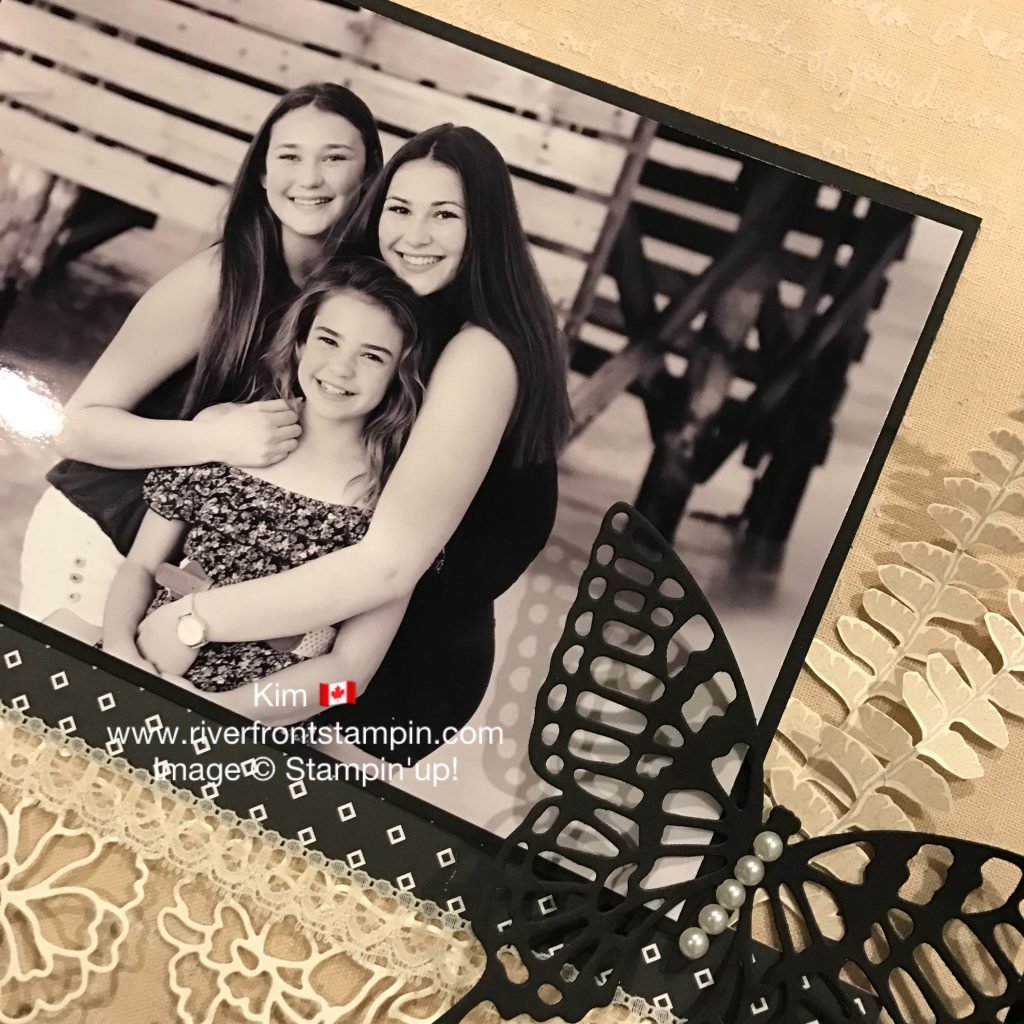 So if you want to participate this weekend or want the class to go, please email me.  I have two spots that opened up! You are welcome to forward my message to a friend:)
If you are a scrapbook lover just like me, you don't want to miss my spring fling Stamp-a-rama. We will be making a 12×12 album, special cover Kim style. This fun day includes an album, 12 pages and protectors, a large goodie bag with all your products and catered lunch/snacks.  Save the date:  April 29thfrom 9 to 4pm. Places are limited. I'll be hosting in my home.  Total fee is $99.  If you want this class to go cost is $140 (includes shipping) for pick up $125.
I'm so excited, hope you can join me.  
A picture is worth a thousand words, but the memories are priceless….
If you can't make it this Saturday then check my next big event listed below! You don't want to miss a fun day of stamping with products from the new 2017-2018 annual catalogue!
Don't forget to view all the amazing products from the retiring list.  Order on my online store or email me your order.
I hope you enjoyed my cover album and that you are inspired to use and make your personalized cover album.  Don't forget to order your retired products before they are gone for good! Happy stamping! 
Below is a list of my current events and promotions, you don't want to miss out!
Starter kit
If you have ever thought about Joining Stampin'Up!, now is the perfect time! For just $135, you will receive a starter kit, $165 worth of products or your choice! Check it out HERE

Hostess Code: E6YWHCZM
Shop for amazing Stampin'Up! Products online HERE,use the above hostess code, and receive a free gift from thankful me to wonderful you!
Clearance Rack
Don't miss the clearance rack for up to 60% off fabulous Stampin'Up! Products!
My Events

Click HERE for my next event!